HOME :
Welcome to Guy Carter's Website!
Guy Carter specializes in training Australian Kelpies and Australian Collies.
Guy has extensive knowledge and experience in all aspects of Australian working dogs which is proven by the performance of his dogs in Dog Trials.
As well as practical experience Guy also holds a 'Certificate III in Agriculture - Care for Working Dogs'.
Guy's Dogs exhibit exceptional intelligence and ability to head and hold all types of livestock including cattle, sheep, goats, pigs & poultry.
Guy is part of a family tradition that
has been breeding and training prize winning Kelpies & Collies for 3 generations.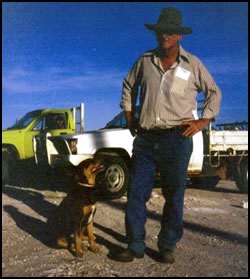 OWEN CARTER
(Guy's Father)